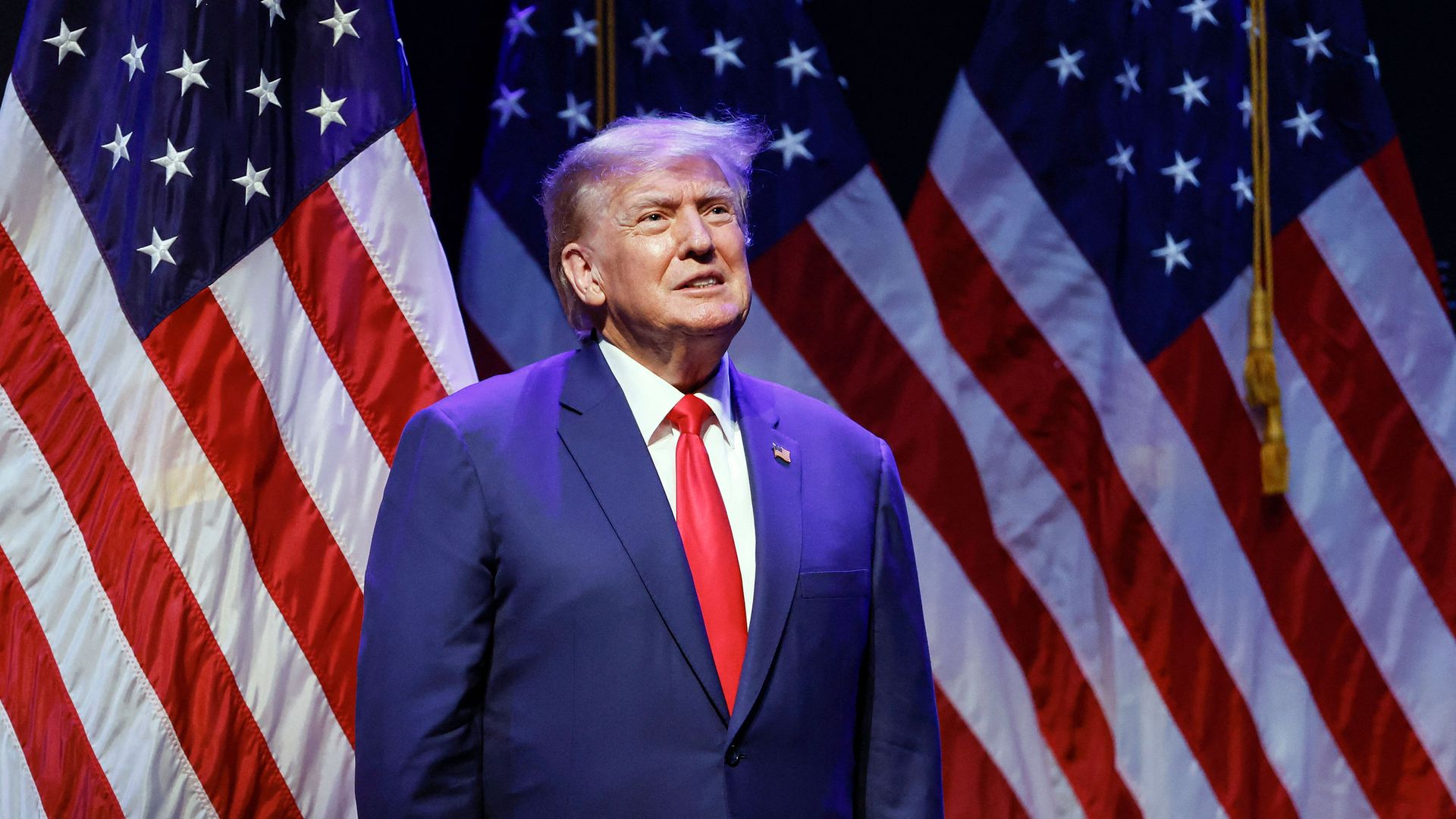 Former President Donald Trump on stage in Iowa. Photo: Kamil Krzaczynski/AFP via Getty Images
Former President Trump said in Truth Social posts Saturday morning he believes he will be arrested on Tuesday amid a Manhattan district attorney's investigation into a hush money payment to adult film star Stormy Daniels.
Why it matters: Trump would be the first sitting or former president in U.S. history to face criminal charges.
Driving the news: "The far [and] away leading Republican candidate [and] former president of the United States of America will be arrested on Tuesday of next week," he wrote, citing "illegal leaks" from the Manhattan District Attorney's Office.
"Protest, take our nation back!" he added.
In a separate post on Saturday morning, Trump said America is "now third world" and "dying." He added that "American patriots are being arrested and held in captivity like animals," while also being critical of crime, inflation, prisons and mental institutions.
The district attorney's office invited Trump to testify before the grand jury as part of its investigation. Daniels and Michael Cohen, Trump's former personal lawyer, both met with prosecutors earlier this week.
Trump's lawyer, Joseph Tacopina, told CNBC on Friday that the former president will surrender to face criminal charges, should he be indicted.
"Will follow normal procedures if it gets to that point," Tacopina told CNBC.
Worth noting: Trump, who has 24-hour protection from the Secret Service, is currently living at his Mar-a-Lago estate in Florida.
Background: A grand jury in Manhattan could indict Trump for his alleged role in the hush money paid to Daniels before the 2016 presidential election. Daniels claims she had an affair with the former president, which Trump has denied.
Cohen pleaded guilty to federal campaign finance violations in 2018 and was sentenced to three years in prison related in part to the $130,000 paid to Daniels.
Cohen later alleged that Trump directed him to make the hush money payments amid the 2016 presidential election campaign. Cohen said Trump then reimbursed him for the payment through the Trump Organization and the company cited it as legal expenses.
Legal experts have raised questions about the strength of Manhattan District Attorney Alvin Bragg's case against Trump, saying the district attorney will face several hurdles, per The Washington Post.
If felony charges are sought against Trump, Bragg would likely have to prove that Trump falsified business records to cover up Cohen's campaign finance violations, Axios' Zachary Basu writes.
The big picture: The grand jury in Manhattan could turn the 2024 campaign on its head by indicting Trump.
Trump would likely play the victim and vengeance card for 2024, which are already major themes of his campaign, Basu writes. The former president has already identified any and all investigations as "witch hunts."
But, there's no precedent for what's about to happen, leaving the United States political system in uncharted waters.
Go deeper: Looming Trump charges threaten to inject chaos into 2024 campaign
Editor's note: This story has been updated with additional details throughout
Source: Read Full Article