"I did 15 years on Art Attack – 20 series, 500 shows, 2000 ideas and the question I get more than anything else is 'did you actually do the drawings?'"
Neil Buchanan brought art to a generation of children, but is still waiting to be recognised as an artist.
Yet as the 49-year-old Liverpudlian launches his first collection of what he calls "grown-up art", he says that is not the reason for producing it.
"I always promised myself that one day, when I hung up my wax crayon, I would do something for myself and came out of me.
"In a way, this is the first time the public are going to get to see the real Neil Buchanan."
The exhibition, Hope Street, is inspired by his growing-up in Aintree, a subject matter chosen not least because he says he is "a sucker for nostalgia".
"I thought why not do something appertaining to my childhood?" he says.
"Hope Street isn't a place, it's a state of mind – I think when I was a kid, there was a lot more hope in the air.
"Whether that was naive or not, I don't know, but it felt right to me – I lived in hope."
'Failed rock star'
Interestingly, it is neither Neil's TV career nor his move into fine art that he is most proud of.
It is his first love, music, and in particular, his recently revived heavy metal band, Marseille.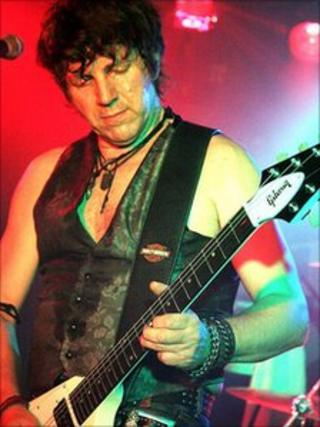 "People say 'Art Attack has to be your greatest achievement ever', but it wasn't.
"It was a no brainer – just a good idea, such a good idea that it was always going to be successful.
"I'm a musician first – that's what runs through my blood.
"I was a failed rock star first time around… So getting five fortysomethings back together into the music business, which is dead, in a genre of music that hasn't been heard of since the dinosaurs… that's been my greatest achievement.
"We worked out the other day that in the last year, we've played to around 8,000 people and we've sold a third of them an album – that's not a bad hit rate.
"I laugh about it – it's just five guys growing old disgracefully."
"The red sweatshirt's gone out of the window though, and been replaced by leather.
'Keep smiling'
He says he does not miss his place on children's television and that his ambitions these days are simple.
"I want to wake up tomorrow with a smile on my face.
"These are crazy days for all of us and my ambition is to get on with it, keep smiling, put a smile on everyone else's face."
Neil Buchanan launches his Hope Street collection at Rennies Gallery in Liverpool on Friday 7 October and The Original Art Shop in Preston on Saturday 8 October.
Source: Read Full Article